When To Start To Tummy Time And Everything You Need To Know About It
Tummy time is an exciting and important stage for a baby's early development. You could say that it is like your baby's first workout!

Sometimes, as a new parent, the focus is always on putting the baby to sleep and feeding them, and in between all those sleepless nights, it is easy to forget about tummy time. But the fact is tummy time is equally important. The little wiggles and lift-ups help in early baby development, digestion as well as in preparing the baby for what is ahead - rolling over and crawling.

As a new parent, tummy time might sound fun and exciting, but we are sure you would have a lot of questions about it. So, we are here today to break down and tell all the new moms and dads out there everything you need to know about tummy time.
Tummy time is exactly what the name suggests - time spent by the baby on their stomach while awake and supervised.
It is the time to guide your baby to play, grow and learn while spending some time on their stomach. When you place your baby on their tummy, it encourages them to lift their head which helps strengthen their neck, muscles, head while boosting their motor skills.
Newborns spend a lot of time on their back or being swaddled. So, obviously in the beginning it is not easy to make them do an activity that might not be exciting for them. But honestly, tummy time has a lot of benefits. All you need to do is place your baby on their tummy and keep them engaged with a colorful toy or talk to them or sing a song for them. Once they get comfortable in this position, they would want to spend more and more time on their tummy and explore everything around them!

Tummy time is also a great way to bond with your baby. Apart from this, there are many other benefits of tummy time, like:

1. Develops gross motor skills

2. Great practice for what's coming ahead - rolling over, sitting up, crawling, and more

3. Engages and strengthens the neck and shoulder muscles

4. Helps build upper body strength

5. Prevents flat spots on head (usually caused by lying on their back)

6. Encourages them to grab, hold, or reach for things (hand motor skills)

7. Alleviates gas pain

8. Encourages baby to master head control

9. Exposes baby to new textures, colors, and environments

10. Helps promote timely growth
Wondering what is the ideal time/age for you to start tummy time for your little bub? While with most parenting guidelines, there is no specific timeframe for this one because there is no "one-size-fits-all" when it comes to our little munchkins. However, the American Academy of Pediatrics recommends that parents start tummy time as early as possible (you can even start from their first day home from the hospital!). The only thing you need to remember is that your baby should be awake during this time and a parent or caregiver should be present to supervise them all the time.

Initially start with 3-5 minutes of tummy time every day and then gradually increase the time as and when your baby becomes more comfortable in the position. But make sure you start tummy time early as babies are not a fan of it most of the time. The earlier you start the lesser the resistance. Experts say by the time a baby is 6 months old, they should ideally be spending around 30 minutes on their tummy.

Also, the best time to encourage your baby to spend time on their tummy is after a nap, post diaper change, or after bath time as they are usually more active during these times.
Creating A Safe Space For Tummy Time
You can practice tummy time on the floor, on your lap, or tummy-to-tummy. But either way, it is important to create a safe space for your baby before you start tummy time. While placing your baby on your lap or tummy, you need to make sure that you hold them correctly and place them in a way that they are comfortable on you.

If you are setting up space in your living room, nursery or playroom, then make sure that you have a soft and cushy playmat that will provide them with enough support.

Bub Mats is one of the best playmats that you can choose for your baby's tummy time. Soft, cushy, and firm enough to support them during their adventures, Bub Mats come with 100% cotton covers that are safe for your baby's skin. Moreover, it is made using natural latex and is eco-friendly, sustainable, and completely natural.

Choosing the right playmat for your baby is very important because they would be spending a whole lot of time on it. So, make sure that you check the material, reviews, and details.
Choosing the right playmat for your baby is very important because they would be spending a whole lot of time on it.
Tips For A Fun Tummy Time
Every baby is different and while some babies might like tummy time and learn to push up and move around on their own, others might take a while to warm up to this new activity. So, here are some tips to make it fun and keep them engaged.

1. Tummy Time Toys:
Keep some toys specifically for tummy time. You can use a brightly colored stuffed animal or shake a rattle to attract your baby towards you.

2. Use a Mirror:
An unbreakable baby mirror is a fun way to keep your baby engaged. Babies love looking at their reflections.

3. Use a Nursing Pillow:
Some babies don't like lying flat on their tummy so you can prop them up using a nursing pillow and hand them a soft or plush toy to play with.

Tummy time might seem like a tough task at the beginning, especially if your baby fights it, but take it slow and don't put pressure on yourself. Give your baby time and you will see that gradually they will come around this activity.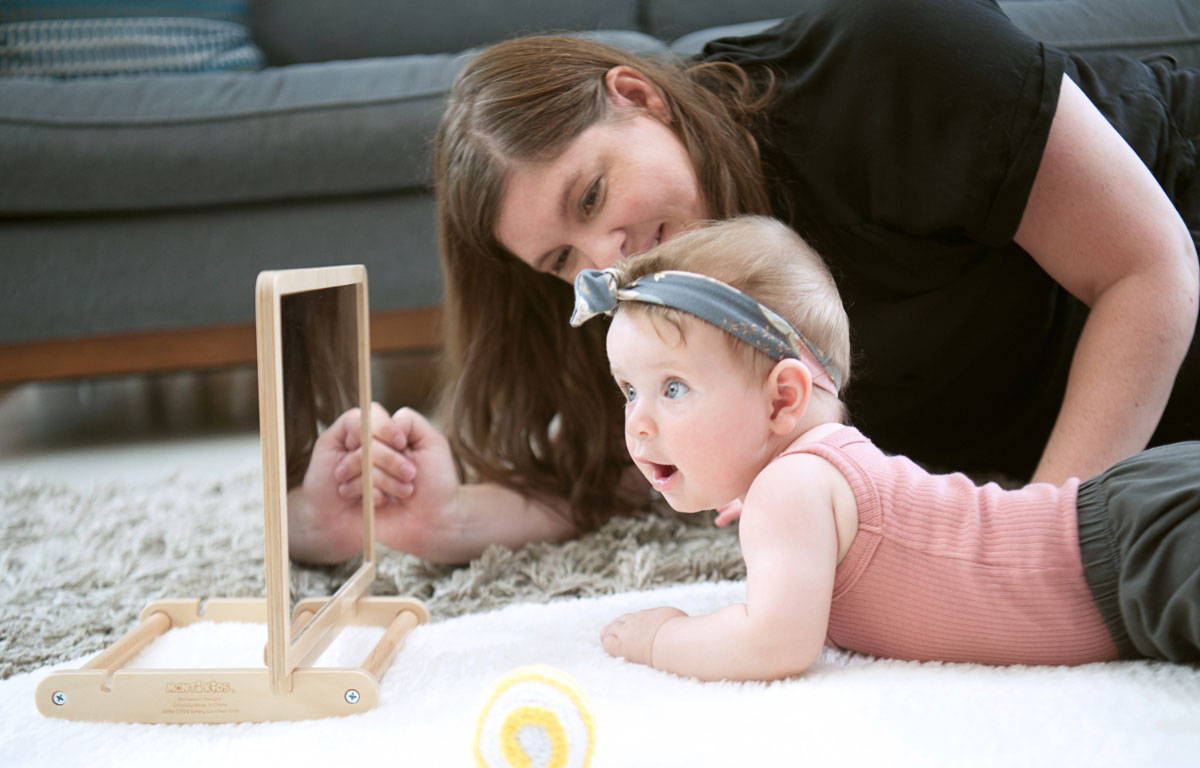 How to keep kids busy at home
Playpens For Safe And Fun Playtime With Bub Mats
Join the Bub Mats Community!
Sign up to hear about the latest news and exclusive offers