Playpens For Safe And Fun Playtime With Bub Mats
As a parent, I know we all need a safe place to put the baby when we've got work to do around the house. That's where playpens come to the rescue! They're a total lifesaver when you need to grab a quick shower or fold some laundry.

Playpens give your little one room to roll around, play with toys, stand up, and burn off energy without getting into trouble. And adding a soft, cushy Bub Mat makes it even cozier for their tummy time and naps. I like using Bub Mats to add some color and texture to keep the baby entertained. The mats are easy to clean and toss in the wash too.

Having a playpen with a comfy Bub Mat creates a nice little play zone so I can get things done and keep an eye on the baby at the same time. They really help us both out!

Tummy time is an exciting and important stage for a baby's early development. You could say that it is like your baby's first workout!

Sometimes, as a new parent, the focus is always on putting the baby to sleep and feeding them, and in between all those sleepless nights, it is easy to forget about tummy time. But the fact is tummy time is equally important. The little wiggles and lift-ups help in early baby development, digestion as well as in preparing the baby for what is ahead - rolling over and crawling.

As a new parent, tummy time might sound fun and exciting, but we are sure you would have a lot of questions about it. So, we are here today to break down and tell all the new moms and dads out there everything you need to know about tummy time.
Benefits Of Playpens
Let me tell you, playpens are a major help for us parents! Playpens have many benefits when used properly, these include:
Keep the baby safely contained and visible so parents can see them while occupied around the house.

Give your little one ample room to roll around, crawl, pull up, and play with toys to your heart's content.

Helps the kids develop important motor skills as they practice sitting, standing, cruising, and moving around inside it.

Provide parents peace of mind if they need to briefly step away knowing the baby is secure.

Let the baby burn energy, explore independently, and develop under supervision. This stimulates the baby mentally and physically through active playtime.  

Maintain naptime and playtime routines in a consistent, safe zone.

 
Bub Mat Sizes and Playpen Recommendations by Bub Mats

For the Regular Play Mat - 40" x 40" 

With nearly 10 square feet of room, this playpen allows the baby ample space to play, crawl, and nap. The sturdy design easily accommodates twins.
What we like about it:
Full Visual Access:

 

Large mesh windows give 360° visibility so you can easily check on the baby from any angle.
Cozy & Comfortable:

 

It includes a waterproof, luxuriously soft mattress sheet to cushion the baby during sleep or playtime.
 Stable & Durable: The low center of gravity provides stability while the heavy-duty mattress supports babies up to 35 inches tall. Easily folds up into a compact travel bag.
Peace of Mind:

 

Designed to provide babies a safe space to play and parents worry-free time to get things done.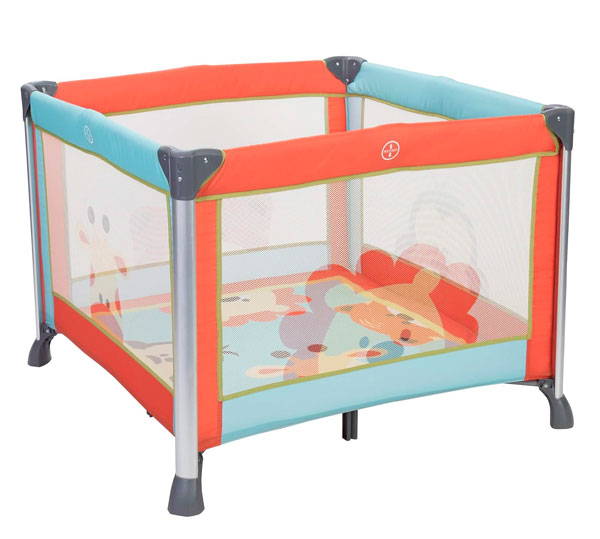 This lightweight square playard is easy to move room to room, providing a versatile play and nap space.
What we like about it:
Roomy Interior:

 

With an extra-large interior, it allows ample crawl and play room for your little explorer.
Cushy & Cleanable:

 

It features a removable padded floorboard that keeps baby comfy and is quick to wipe clean.
Compact Storage & Travel:

 

Folds up compactly into a carry bag for storage or taking on trips.
Easy Setup:

 

Simple assembly means this sturdy playard can be set up or taken down in minutes.


For the Maxi Play Mat - 50" x 50"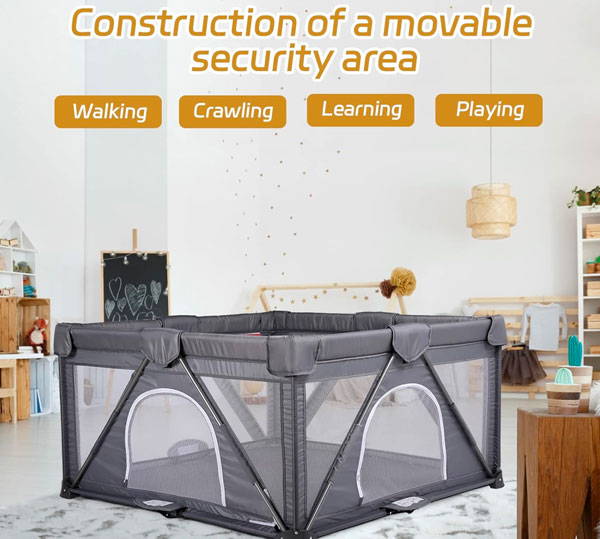 This playpen provides a generously sized play area for babies and toddlers while still being easy to set up, take down, and transport. The triangular steel tube frame creates a sturdy 50" x 50" space that allows room for play and exploration.
What we like about it:
Safe for Baby:

 

With its non-slip base and premium Oxford fabric, this playpen keeps the baby stable and secure. The thickened steel tubes add stability so you can feel at ease while the baby plays.
Foldable & Portable:

 

Despite the large interior space, this playpen folds up neatly into a compact carry bag. Set it up or take it down in minutes, perfect for using at home or taking on trips.
Encourages Development:

 

Let the baby focus on the sights, sounds, and textures of playtime. The open space allows them to crawl, stand, and play while developing motor skills and imagination.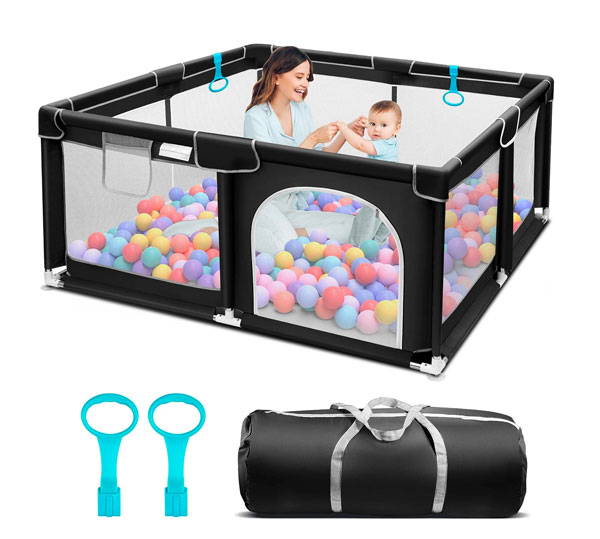 With 50" x 50" of space, this playpen allows your little one plenty of room to crawl, stand, walk and explore. Tall enough for them to stand, it provides an ideal play zone.
What we like about it:
Sturdy Yet Soft Construction: The stable steel frame and suction cup base keep the playpen firmly in place. Yet the sides are wrapped in soft, breathable mesh that prevents injuries.



Safe, Eco-Friendly Materials: Made from durable, tear-resistant fabric and steel tubing, this playpen is built to last. It provides a safe space for play and is crafted from eco-friendly materials.



Freedom for Mom & Baby: The mesh sides allow you to easily watch over your baby while keeping your hands free. And the baby can play freely while remaining securely contained.



Quick Set-Up and Storage: Assembling the playpen with its plastic joints and steel tubes is simple. When playtime is over, it folds up neatly into a carry bag for compact storage and portability.
For the Supermaxi Play Mat - 50" x 75"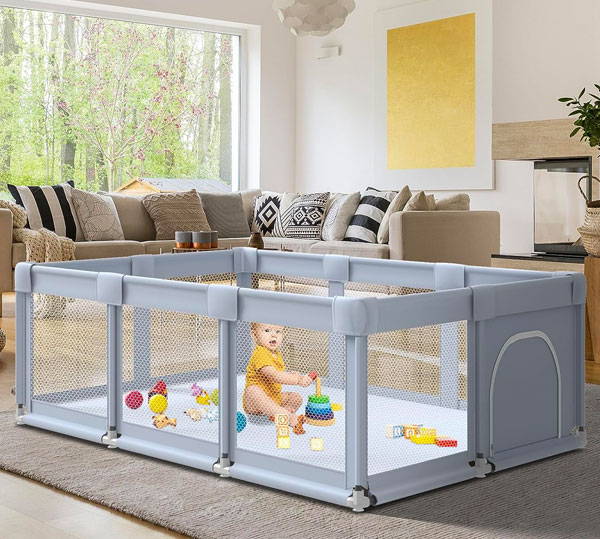 With generous sizing up to 74" x 50", this playpen allows crawling babies and active toddlers plenty of space to explore and play freely. The tall, sturdy walls are ideal for supporting standing and walking.
What we like about it:
Safe, Eco-Friendly Materials: Made from soft, breathable mesh and padded foam, this playpen is gentle on delicate skin. The durable fabric is easy to wipe clean, providing long-lasting use.



Keeping Watch Over Playtime: The 360° visibility lets you easily monitor the baby from any spot in the room, thanks to the full mesh walls. The zippered access prevents wandering outside the play zone.



Stable, Pet-Free Protection: With suction cup feet and sturdy construction, this playpen creates a stable zone that won't tip. Babies and pets stay safely separated during play.



Quick & Simple Setup: Assembling the interlocking steel tubes and plastic joints is tool-free and easy. When playtime is over, the playpen is just as simple to take apart for cleaning and compact storage.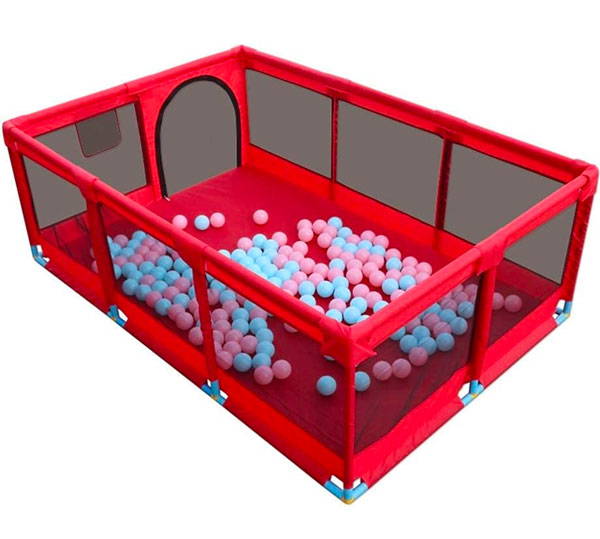 This playpen keeps active babies safely contained with 66cm tall sides that prevent climbing out.

What we like about it:
Durable Mesh Material: The transparent mesh allows you to easily view the baby while providing ventilation. Use it indoors or outside.



Protects Your Floors: The rounded corners and sturdy base prevent scratches to floors and carpets.



Keeps Messes Contained: The waterproof fabric contains spills and is easy to wipe clean, maintaining hygiene.



Portable & Convenient: Folds up for storage and travel. Provides a handy place for babies to play while you get things done.
Using Bub Mats In Playpens
As a parent, keeping your little one entertained in the playpen is so much easier with their super soft Bub Mat! Here are some tips for you to take playtime to the next level with padded play mats.
First things first - lay the Bub Mat down flat! Position it completely covering the playpen floor so there are no gaps or hard spots. Flatten it out smooth so it makes an even, cushy surface for the baby to play on.
Of course, accidents happen with little ones! If any spills or messes occur on the mat during play, just spot clean the area to keep the Bub Mat fresh. Luckily the material wipes up easily if you catch it right away.
For extra plush padding, you can place a fitted crib sheet or playpen cover over the Bub Mat. This helps protect the mat from more intense drool and teething while giving the baby an ultra soft place to play and nap.
To keep things interesting, swap out different textured Bub Mats in the playpen. The variety of materials provide sensory stimulation to engage the baby's senses. It's cute watching them discover new tactile surfaces!
When playtime is over, be sure to fold the Bub Mat neatly to maintain its shape. Proper storage really helps extend the life of these mats through countless washes.
Speaking of - Bub Mats are totally machine washable making cleaning up a breeze! Just toss in with the baby's other laundry to keep the play space fresh. Having that option gives you peace of mind that the mat stays sanitary.
With a properly placed padded Bub Mat, the playpen becomes a baby paradise for playtime, tummy time, naps, and more. And it's portable, so you can bring the familiar comfort on the go. Such a handy parenting tool!
Why Use Bub Mats In Playpens?
As a parent, adding a padded Bub Mat in your baby's playpen provides them with many helpful benefits. Here's how a soft play mat can enhance their playtime experience:
The cushioning creates a comfortable surface for your baby to play on. It protects them from the hard floor if they fall while learning to stand or walk.

Vibrant colors and fun patterns provide visual stimulation to engage your baby's developing eyesight and attention.

Different textures like plush, cotton, and velour keep things interesting through tactile discovery as your baby feels around.

Bringing a familiar Bub Mat when traveling or visiting can help your baby feel more secure being in a new environment.

Since Bub Mats are machine washable, you don't have to stress about messes and spills. Simply wipe clean or toss in the wash.

Durable construction means your baby can freely play, chew, and explore without damaging the padded mat.

Crinkly sensory textures entertain your baby during solitary playtime and build fine motor skills.

Frequent washing eliminates germs that accumulate from repeated use, keeping your baby's play space sanitary.

A cushioned spot for tummy time, crawling, and naps makes your baby's playpen a comfy oasis.

The soft padding provides protection as your baby develops physical abilities like standing and walking in the playpen.

Portability means your baby's beloved mat can be enjoyed anywhere - at home, at the park, or on vacation.

Machine washability allows you to easily remove drool, food spills, and other messes from the mat.
With so many features that benefit your little one's safety, comfort, and development, a padded Bub Mat is a playpen essential!
As a parent, you want to provide your little one with a safe play area while having your hands free to tackle household tasks. A playpen is a perfect solution! Add a soft Bub Mat inside and it becomes an even more comforting space your baby will enjoy.
Bub Mats like the cotton covered Cushy Mat or vegan Messy Mat create a cushy surface for playtime. The padding is gentler for babies than the hard playpen floor. And the bright patterns provide engaging visual stimulation to entertain your little explorer!
Take your playpen from basic to luxe with plush mats your little one will love!
Related articles
Featured product